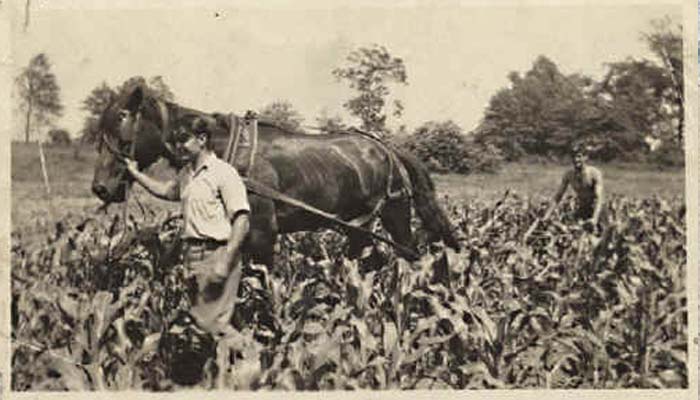 Al Cicconi Plow in hand with his brother Tony in the 1940s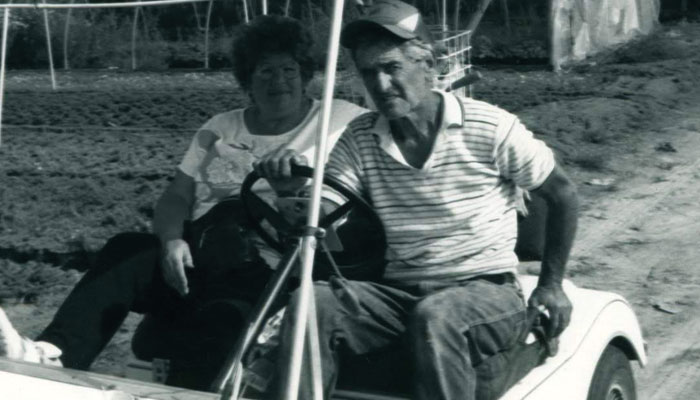 Al and Joan Late 1980's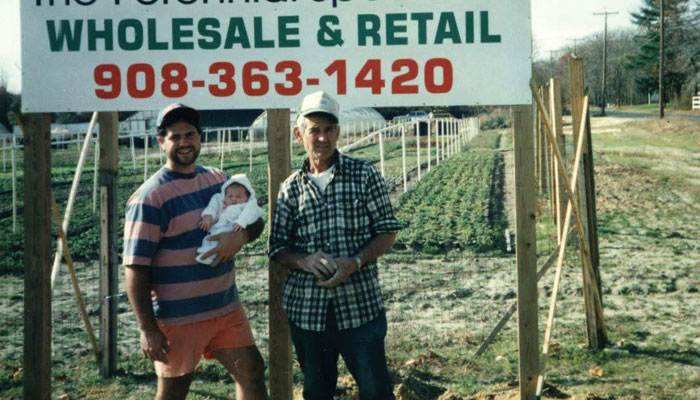 Albert, Baby Courtney & Al in the Fall of 1994
Our History
Cicconi Farms was started in the 1960's by Al (Humberto) Cicconi and his wife Joan. The farm specialized in perennials and also grew annuals and some fresh produce for a short time. Al's background was horticulture which he had done since a very early age to help his large family with their home expenses after his father's early passing. He enjoyed working with his hands - and manually planted and maintained crops of perennials before the use of modern equipment. Joan's background was in administration and finance as she had worked in the office of Merck Pharmaceuticals before marriage and joining farm life. Together they created Cicconi farms.
Al & Joan had a son Albert, who eventually took over the business after college in 1989. With a degree in Ornamental Horticulture from Delaware Valley College he implemented the knowledge he learned with the personal experience from working on the farm his entire life. The farm was expanded from 2 greenhouses to over 80 greenhouses. Field grown plants were replaced with potting machines, soil mixers, computer generated labeling, a pole barn and modern equipment and technology to assist the ever-growing need. Albert's wisdom and experience at such a young age was not unnoticed: He was awarded "Young Professional of the Year" in 2006 by the New Jersey Nursery & Landscape Association, and is also a member of the Alpha Eta Chapter of Pi Alpha Xi a National Honor Society for Horticulture. As his parents began to age, and the responsibilities of running a business and caring for elderly parents became very difficult, Albert's wife, Sharon, stepped in to assist. Sharon's background as a real estate paralegal and e-commerce business owner made it an easy transition to office manager. Al (Humberto) Cicconi passed away in May of 2005, and his wife Joan passed away in December of 2016. Their legacy continues with Albert and Sharon (and their children who assist seasonally as needed- Courtney and Collin). Courtney designs and maintains the catalog, inventory database, and e-commerce marketing in between her other full-time career as an artist/pottery shop owner. Collin holds a degree in Statistics with a minor in Economics from Penn State and assists with analytics and support on the farm as needed seasonally in addition to his full time career as an Equity Analyst. Spring, Summer, Fall & Winter- Cicconi Farms continues to grow 1000's of perennials, grasses, ferns, native plants and other seasonal crops. They proudly supply municipalities, landscapers, garden centers and other green industry businesses with quality grown plant material. Trained and experienced horticulturalists are on site with a plethora of plant knowlege to assist.
In 2011, along with a couple of friends, Nightmare at Gravity Hill haunted attraction was launched and continues to be a fun, creative business. In 2012 after Hurricane Sandy, Beach Grass and Firewood were added to our product offerings.
The Cicconi Family feels blessed to have the support of their wholesale customers as well as their local community. Complete product knowledge and strong personal service is the foundation of their success.